RYO
SUPER REVITAL TOTAL CARE SHAMPOO FOR NORMAL&DRY SCALP
$35.00
4 x $7.00 fortnightly with
6 x $4.66 weekly with
5 x $5.60 fortnightly with
RYO Super Revital Total Care Shampoo 400ml
For Normal and Dry Scalp is a luxurious shampoo specifically formulated for dry hair with anti-aging properties. Unique shampoo formula carefully infused with Korean medicine ingredients to increasing luster of hair with anti-hair loss. it reinforces root of hair with natural ingredients by using natural surfactant and scalp-calming natural coix. Ingredients such as ganhuangenin, licorice and biota were used along with wilfordi root for cooling effects and coix for calming effect. Hair will be left looking shiny and feeling strong.
-No.1 korea brand on anti-hair loss

-Use herbal ingredient such as ginseng to take care of your scalp and hair

-prevent scalp aging with extract more herbal ingredient

-prevent anti hair loss cause by hair scalp ,supply nutrient
HOW TO USE
Wet hair and scalp with lukewarm, lather bubbles on hands.
Apply bubbles onto scalp and hair massage gently.
Rinse off thoroughly with lukewarm water.
After shampoo apply onto hair and massage 1~2 minutes, rinse off with lukewarm water.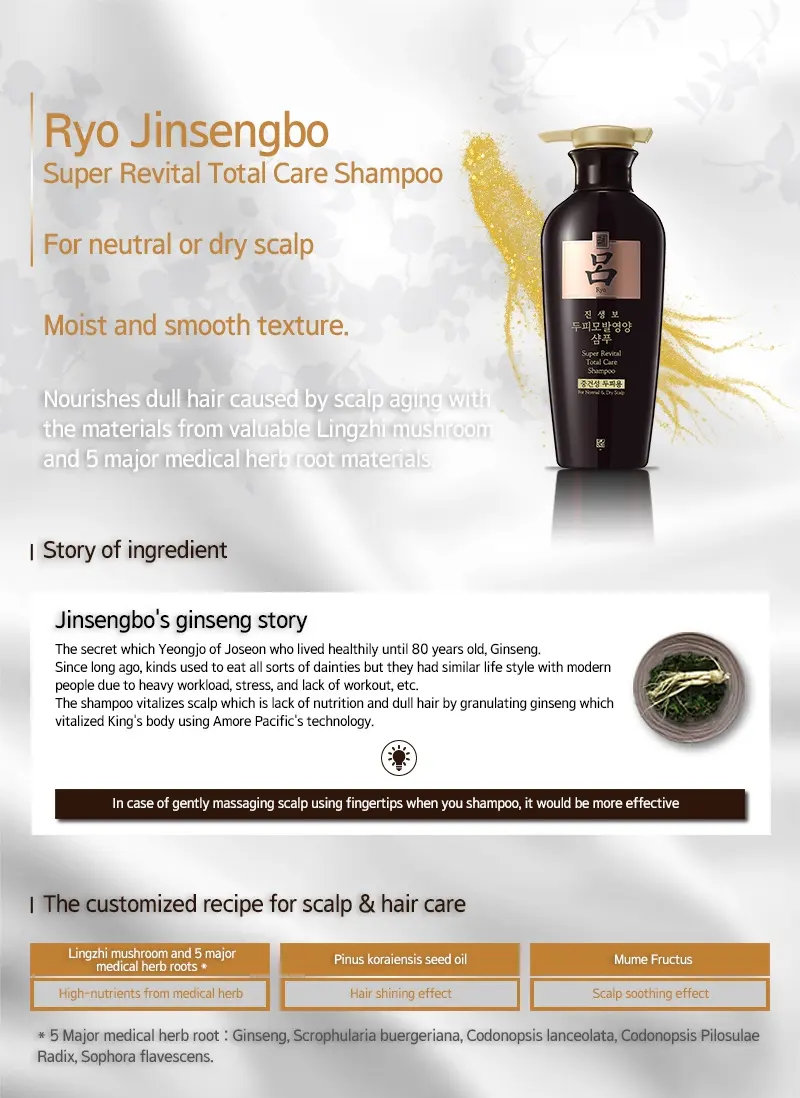 PRECAUTIONS
If the following symptoms arise upon use of the cosmetic product, immediately discontinue use and consult a dermatologist, for continued use may aggravate the symptoms. A. Redness, swelling, itchiness, stimulation, or other symptoms or B. Occurrence of the above symptoms upon exposure to direct sunlight. Do not use on areas with wounds, eczema, or dermatitis. Do not store in areas with extreme heat or cold, or under direct sunlight. Avoid the eye area.